Bort & Herkert GmbH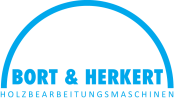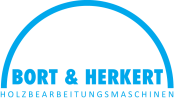 Bort & Herkert GmbH from Bretzfeld:
Seit 1989 zählen Vertrauen, Fachwissen und die Verpflichtung zur Qualität zu den festen Bausteinen unserer Firmenphilosophie. Unsere Produkte und Dienstleistungen in der Holztechnik sollen den jeweiligen Ansprüchen unserer Kunden gerecht werden.
Mr Tobias Bort
Ringstraße 45
74626 Bretzfeld
Germany
Baden-Württemberg
---
further legal information
Bort & Herkert GmbH
Holzbearbeitungsmaschinen
Ringstraße 43-45
74626 Bretzfeld-Schwabbach
Deutschland


Rechtliche Angaben
Geschäftsführer: Jürgen Bort, Harald Drowin, Tobias Bort
USt.ID.nr. gemäß § 27 a Umsatzsteuergesetz: DE 146279055
Registergericht: Amtsgericht Stuttgart Registernummer: HRB 580622
Inhaltlich Verantwortlicher gemäß TMG: Tobias Bort

Technische Angaben
Technisch Verantwortlicher: Tobias Bort


Trotz sorgfältiger inhaltlicher Kontrolle übernehmen wir keine Haftung für die Inhalte externer Links. Für den Inhalt der verlinkten Seiten sind ausschließlich deren Betreiber verantwortlich.Alle hier verwendeten Namen, Begriffe, Zeichen und Grafiken können Marken- oder Warenzeichen im Besitze ihrer rechtlichen Eigentümer sein. Die Rechte aller erwähnten und benutzten Marken- und Warenzeichen liegen ausschließlich bei deren Besitzern.
Discover more used machines
This dealer has been successfully verified and was awarded the Machineseeker Trust Seal.
Current classifieds & top offers:
Send inquiry to Bort & Herkert GmbH:
More classifieds & machinery offers:
---
---
---
---
---
---
---
---
---
---
---
---
---
---
---
---
---
---
---
---